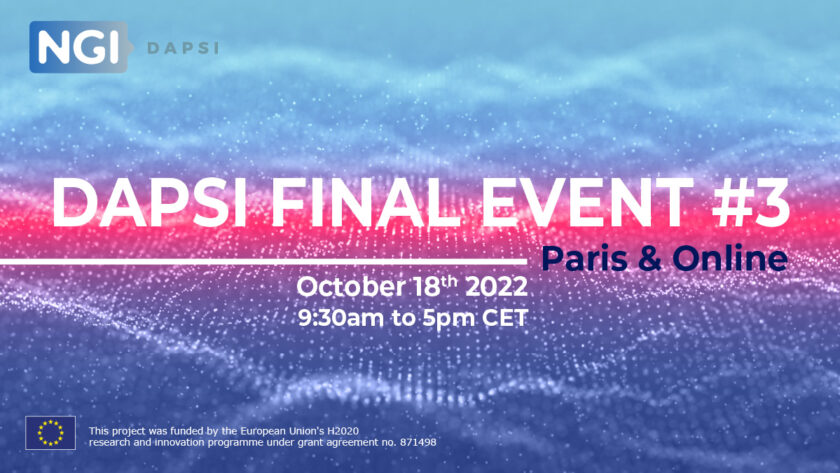 Interested in catching up with the latest innovative contributions in the area of data portability? We are very excited to announce the showcase of the DAPSI Round 3 Projects that will take place on October 18th 2022 from 9:30 AM to 5 PM CEST, in Paris at Cap Digital and online!
About the event
The DAPSI final event #3 is hosted by Cap Digital and its partners – Zabala, F6S, IMT Starter, Fraunhofer IAIS and Engineering. The event will display 19 cutting-edge solutions to the challenges of data portability by the 3rd cohort of the DAPSI incubator! Along with them, top-tier research and development actors will retrace the major issues and introduce new perspectives on data portability through roundtable discussion and keynote. 
Meet the innovators
The event will be opened by Jean-Luc Dorel, NGI Programme Officer at the European Commission. After the warm welcome, 19 winning DAPSI projects from the 3rd cohort will present their innovative solutions. 
After each presentation, participants will have the opportunity to ask online or in person questions to the teams. To extend the exchanges of opinions and experiences, all participants are invited to close the day with a networking cocktail.
Join us!
If you are interested in discovering new solutions to the challenges of data portability, sovereignty, transparency, compatibility, interoperability – please join us online or in Paris.
When? 
Tue, 18 October 2022
09:30 – 17:00 CEST
Where? 
Cap Digital
14 rue Alexandre Parodi
75010 Paris, France
View map
Registration
Take a look at the full Agenda of the DAPSI FINAL EVENT #3 and secure your place today!