About the project
Project Name: DASI Breaker
DAta SIlos Breaker: A Semantic Open Interoperability Solution to Break Down Data Silos.
Team: Luca Roffia, Cristiano Aguzzi, Brenno Tondato De Faria, Andrea Ferrari, Simone Persiani, Ludovico Granata, Lorenzo Gigli and Luca Sciullo

DASI Breaker is a semantic open interoperability solution to break down data silos and enable the development of data portability applications and services with native support for RDF and SPARQL. At low level, DASI Breaker supports OpenID Connect for client authentication and it allows to define authorization policies though the W3C Access Control List (ACL) ontology. At a higher level, an interoperable access to data is granted by open APIs like NGSI-LD, Linked Data Platform 1.0, and Solid Protocol.
Website: github.com/vaimee/dasi-breaker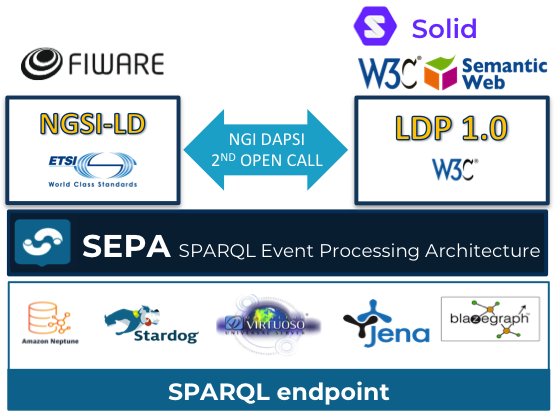 Achievements from the first phase of the DAPSI programme
First of all, as a start-up in its very early stage, the DAPSI programme has been a big opportunity to put together a team of motivated, enthusiastic and young innovators. Passing to phase 2 proved that we are moving on the right direction and that gave us even more strength.
According to our goals, during phase 1 we have been able to implement on top of SEPA, the VAIMEE core technology, a set of APIs that will fuel the development of innovative distributed, interoperable, data-driven and context-aware Web applications and services. In particular, the APIs allow to interact with SEPA using both the SOLID and NGSI-LD protocols. Not all the entire NGSI-LD has been implemented but we are confident to finalize it by the end of phase 2. During the development, we contributed to the SOLID project with a PR on ACL (Access Control List) for managing group of users that has been accepted by the SOLID GitHub maintainers. An important achievement has also been the implementation of WAC (Web Access Control) mechanism at SEPA level thus enabling ACL for SPARQL agents.
All the source code is available on GitHub: https://github.com/vaimee/dasi-breaker
Do not hesitate! Feel free to contribute to our solution to enable the development of data portability applications and services!
The DAPSI programme provides the perfect balance of funding, mentoring and training. The programme is very selective and be part of it made us more confident that our ideas are cutting edge. For a start-up devoted to innovation, DAPSI offers a very comfortable environment to grow. The support provided by Sara and all the staff, both for what concerns initiatives, networking, promotion and technical contents has been very valuable. Our mentors, Farid and Yann, gave us the tools to understand and develop our business. Be part of DAPSI programme? Just amazing!

Luca (VAIMEE CEO)``