by DPELLA team

The Challenge
We live in an era where personal data is being collected at a massive scale like never before. We have a unique opportunity to obtain a vast number of analytics on people's behaviour and use them to bring a human dimension to the Internet's core.
How will this vision be achieved if obtaining data insights has no privacy guarantees? Because of being afraid of violating the privacy of customers/citizens, organizations collecting data often resort to creating data silos! In such a situation, valuable data assets might become useless bits.
DPella wants to contribute to building a human-centered Internet where sharing data analytics of human behaviour is done without being afraid of violating privacy regulations.
The Solution
DPella is a company created to unleash the power of analytics on personal data, thus enabling organizations to share the data insights with privacy warranties.
DPella's core technology disturbs analytics' results with random noise to protect privacy while providing information about their accuracy. DPella uses a mathematical framework known as Differential Privacy to precise reason about privacy and accuracy trade-offs. Our novelty is a new technique to efficiently calculate the accuracy of data aggregations.
DAPSI support
Becoming a startup company requires business development. DAPSI provided effective business training methodologies and one-to-one super valuable coaching sessions with great specialized couches that understood our type of business and solution, something challenging to get when talking about deep tech. We also participate in NGI Tetra Bootcamp, where we were trained in design thinking and pitching.
Building a deep tech software application requires highly qualified resources that we could afford, thanks to program funding.
We also have access to some NGI sponsored exposition by participating in events such as NGI Forum, media coverage in NGI website and social media and of course, we have access to networking with Data Portability communities across Europe.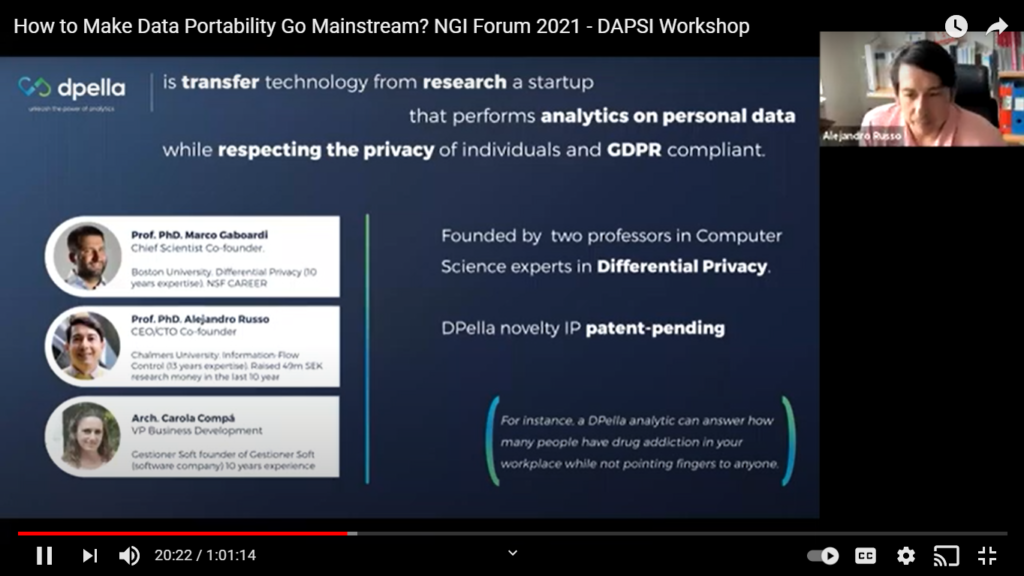 DAPSI believed in us at a very early stage; its funding made it possible to transform a research prototype into a startup company and software application. We are very grateful for that.
DAPSI journey – Achievements from first phase of the DAPSI programme
When we started DAPSI, DPella was a recently created startup. We feel that we made tremendous progress on the business side: we determined addressable markets, a market segmentation, go-to-market strategy, and performed a competitor analysis. We have had conversations with companies in the Nordics, and we recently signed NDAs to do a proof-of-concept – a significant milestone for DPella! On the technical aspect, we laid the foundations of a software product capable of running in-house or as privacy-as-a-service in the cloud. DPella's engine is built using the latest programming language techniques to ensure its correctness – privacy is something not to get wrong.
DAPSI journey – Achievements from the second phase of the DAPSI programme
The second phase helped us to focus on more strategic matters regarding software and business development.; we also had more in-depth coaching sessions to understand what prospective customers and investors expect from us.
We partnered with GU Ventures, an incubator from Gothenburg University focused on startup spin-offs from academic research. We also incorporated Johan Sköld as a board advisor; he is a serial entrepreneur who advises us in business and investment strategies. Together with DAPSI coaches -Agustin Radu and Pierre Vilpoux, we have had a professional advisor team guiding us in our first successful year of existence.
The second stage also gave us a lot more exposition to the outside world. We participated in three sponsored NGI events, pitch competitions, and discussion forums. As a result, we got the changed to refine our value proposition offer, business model, and communication strategy. Importantly, DPella got accepted in the MobilityXlab, an Incubator sponsored by Swedish giants like Ericsson and Volvo – an opportunity that will surely help us keep on growing.
Lessons learnt
Over this journey, we have learnt, discovered and pivoted.
Contacting potential customers: we learnt that warm introductions are recommendable but not the only way to reach people.
Second opinion: we learnt to always look for a second opinion. For example, when choosing incubator, funding strategy and open calls efforts, pricing, etc. In this matter, the DAPSI coaches helped us a lot.
We learnt to pivot: it was in the middle of the DAPSI project that we discovered that we had to pivot our solution's functionality based on customer meetings.
We learn that closing business in deep tech takes more time than we expected. We forecasted a quicker process to close POCs; now we know it takes at least six months for the type of customers we are targeting.
If we were going to do it all again, we would do it in person! We missed a lot of one-to-one interactions. We would have talked more with the other teams and get to know them better, the same with the coaches. Although the virtual meetings and events were well organized, something is missing in virtuality.
What's next
Our next goal is to focus on the MobilityXlab: a collaboration platform where large and emerging companies with pioneering ideas drive innovation together. DPella was selected in 2021 and started its exciting journey to build up its technology with MobilityXlab companies like Ericsson, Volvo, Zenseact, and CEVT. We are also at the maturity point to start looking for VC capital to accelerate our development.
More information