DPella is part of the first and very selective batch of projects that entered the DAPSI programme. We spoke with Alejandro Russo, DPella project coordinator, to learn more about them, their technology and ambition.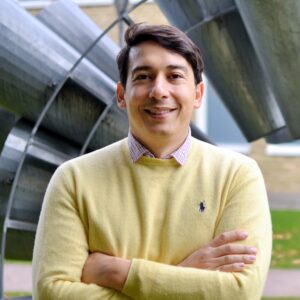 Can you tell us about yourself and your team?
The DPella team is composed of Marco, Carola, and me. Marco and I are professors in computer science with expertise in building security solutions for data privacy. I am located at the Chalmers University of Technology, in Sweden – where I lead a team of four brilliant Ph.D. students -, while Marco is located at Boston University, USA. I have known Marco since my first steps as a Ph.D. student 15 years ago!, but it was in 2018 that we got the chance to start working together – a collaboration that led us to the decision of founding DPella. Our team is not all about pointy-hats academics, but also have an entrepreneur onboard: Carola, who was born in a family of Argentinian entrepreneurs. I have known Carola for my whole life. She is an architect who is passionate about developing ideas around software – a passion that I witnessed in the nine years that she has been running her own software company. I could not be happier with the team: we are diverse, have different backgrounds, and are 100% intellectually honest with each other.
Where does your passion for data privacy come from?
I have been always passionate about data privacy. It is something that originated during my early high school years during the 90s. Back then, I got introduced to the (pre-Internet) world of BBSes, which were a great source of knowledge about security vulnerabilities and techniques to create secure software. During those years, I found it fascinating to learn how to discover private information that no one was supposed to know. I guess that I was intrigued by how people came up with such creative, and surprising techniques to do that. From that early age, I got the impression, which later I confirmed it during my Ph.D. studies, that data privacy is something hard to achieve, something that requires a scientific approach.
What's DPella and how does it work?
DPella secures data analytics so that companies can safely share or monetize them; especially when analytics depend on customers/citizens' private data. Our mission is to help to open up data insights that would otherwise remain closed due to being afraid of violating privacy regulations.
DPella's tech disturbs the result of data analytics with (carefully calibrated) random noise to protect the privacy of individuals while providing a notion of how accurate the analytics still are. DPella uses the (mathematical) notion of Differential Privacy – a golden standard for privacy – to explore the trade-offs of privacy and accuracy – for instance, the more noise is used to disturb the analytics, the more secure it becomes and the less accurate the results are, and vice versa.
Why did you apply for DAPSI?
When we read the call for DAPSI project proposals, we realize that it was about developing solutions to "move citizens' data" between data providers, and our vision about securely opening up insights provided by datasets is just about that! We were also attracted by the training, services, and funding provided by DAPSI, which were more than useful for a young company like ours.
What's next for DPella?
There are many challenges ahead for us ?, but I would say that the most important right now is to nail our first pilot. We need feedback from our early adopters' to be sure that we build an MVP that they understand and would like to use. And of course, we need to start recruiting!