About the project
Project Name: postmarketOS
postmarketOS is an alternative phone operating system based on Linux, which aims to give people back control of their existing smartphones by focusing on privacy, security, and sustainability.
Team: Oliver Smith, Martijn Braam and Clayton Craft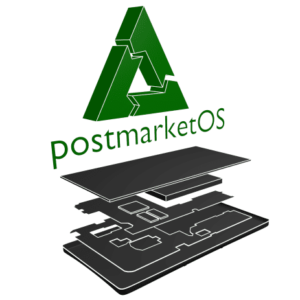 postmarketOS replaces the operating system on many Android and Linux-powered smartphones and tablets, giving them new life long after manufacturers have stopped supporting them. This allows for users to have a secure and privacy-focused smartphone, and reduces e-waste by giving these devices a new lease on life. postmarketOS was started in 2016, and has since grown into a large community-driven project with support for hundreds of smartphones, tables, and smartwatches.
Website: postmarketOS.org
Achievements from the first phase of the DAPSI programme
The focus of phase 1 was improving postmarketOS's release cadence and maintainability, with an eye towards making the distribution approachable for a more broad range of users. We had 1 major release of postmarketOS, 21.06, which brought numerous features and bug fixes to users. Some of which included a user-friendly file manager, and having a firewall enabled out of the box to help improve security. A summary of features in this release can be seen on the release's blog post here: https://postmarketos.org/blog/2021/07/04/v21.06-release
In addition to the major release, we were also able to make 3 service pack releases. These service pack releases include a number of important bug fixes and application upgrades including (but not limited to) fixing alarm clock triggering on devices that support suspend, Bluetooth media key support, and fixes/improvements specific to the many phones that postmarketOS supports.
We also developed a number of changes to help improve the reliability and featurefulness of certain tools and apps in postmarketOS, which directly translates into an improved user experience. One example includes creating a brand new tool that allows users to easily tweak the user interface (postmarketOS Tweaks, source repository: https://gitlab.com/postmarketOS/postmarketos-tweaks):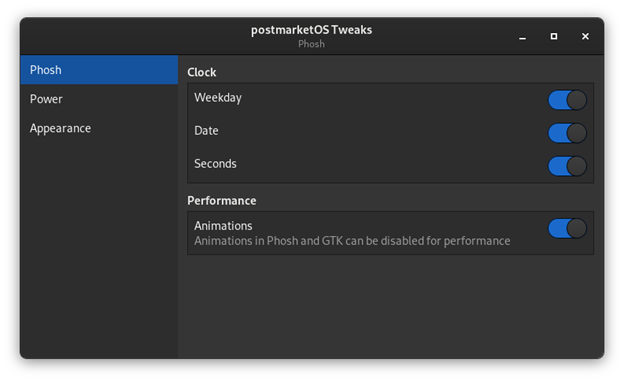 With the support of DAPSI's Phase 1, we've been able to make many great improvements to postmarketOS, including regular releases to fix issues, and implement features that improve the user experience and ongoing maintenance of the mobile operating system. The trainings and mentorship opportunities from DAPSI have helped us to explore additional areas of growth that had not been considered previously.

Clayton Craft